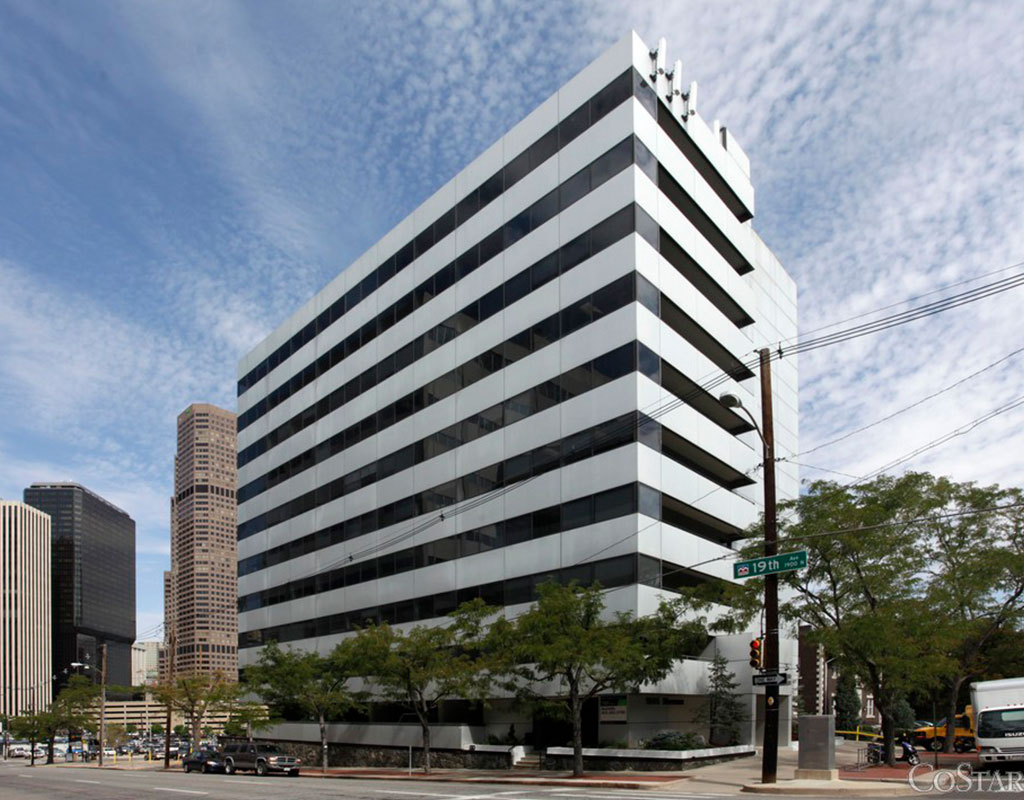 LA company makes first Denver buy with uptown office building
by Jill Jamieson-Nichols
COLORADO REAL ESTATE JOURNAL
A California value-add buyer has acquired Denver Tower with plans to upgrade and hold the building long term.
The 10-story building at 1905 Sherman St. in uptown was 100 percent occupied at the time of the sale to Los Angelesbased Hayman Properties LLC. It offers a good opportunity to add value by bringing rents up to market rates, according to Aaron Johnson, senior director in Cushman & Wakefield's Capital Markets Group.
"Denver Tower provides a significant value-add opportunity with a stabilized asset where current lease rates are as much as $5 per square foot below market," he said. "The property appeals to a wide range of tenants attracted to an uncongested CBD location within one of Denver's core neighborhoods. A majority of Denver Tower's existing tenant base benefits from the close proximity to the Colorado state Capitol," he said.
Johnson and Jon Hendrickson, also a senior director in C&W's Capital Markets Group, represented CentrePoint Properties, which sold the 54,929- sf building for $8.6 million, or $156.57 per sf. CentrePoint has owned Denver Tower for approximately two years.
"This building is just positioned very well in the market," said Hayman Properties Director of Acquisitions Jessica Quinn, noting uptown is a vibrant area that benefits as the central business district expands outward. "A lot of the tenants have been in the building for a very long time," said Quinn, who interviewed each of the building's 14 tenants and found they love the area and proximity to the Capitol and downtown. Colorado Legal Services occupies approximately 50 percent of the building.
The acquisition represents Hayman Properties' first purchase in the Denver market. The company typically buys properties in the $10 million to $20 million range where it sees opportunity to add value.
"Our owner, Robert Hayman, has a great vision for what properties could and should be," Quinn said. "A lot of what you're missing in a typical building is life, character, something that feels clean and comfortable," she said, adding that "lifestyle" component is a focus for the company.
Denver Tower was built as an apartment building, and one of its attributes is that it has balconies on one side. With 5,000-sf floor plates, it also has abundant natural light.
Built in 1975, the building was renovated in 2007. In addition to structured parking, it has easy access to public transportation on Broadway, Lincoln Street and Colfax Avenue, as well as the 20th and Welton light-rail station, which is two blocks away.
Hayman Properties plans to upgrade the building with the expectation of increasing value and lease rates. There will be system upgrades, a new elevator and renovated restrooms on every floor. The new owner is working with tenant Iconergy to maximize energy efficiencies, which will include LED lighting in the tenant spaces. It also is looking at entryway improvements.
Quinn said Hayman Properties currently owns properties in Southern California, Texas and Salt Lake City, and made a strategic decision to start expanding into additional markets including Denver.
"We have had a lot of success in the Salt Lake market, which has been a similar market in terms of tech growth, startup growth and attracting the millennial generation," she said. "I think it's exciting growth when you are bringing in people who are starting businesses and growing businesses," she said, adding Denver also is better positioned than some markets to weather economic downturns.
"We definitely follow larger economic trends in terms of going into markets that are stronger and we feel are going to maintain a higher level of growth," she said. "We are continuing to pursue office buildings as well as multifamily buildings."
Stream Realty Partners is the property manager at Denver Tower